This Week's Semi Finals
12:30 pm: Pilot vs. La Indiana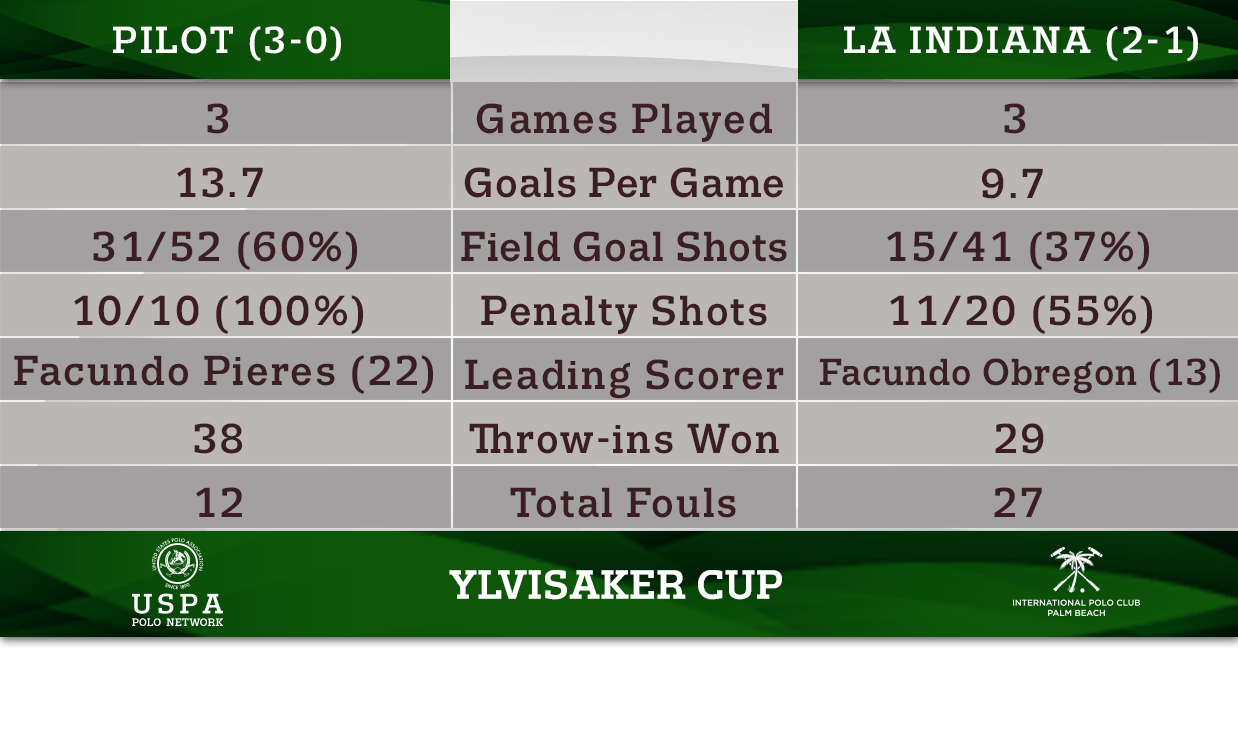 3:00 pm: Dutta Corp vs. Patagones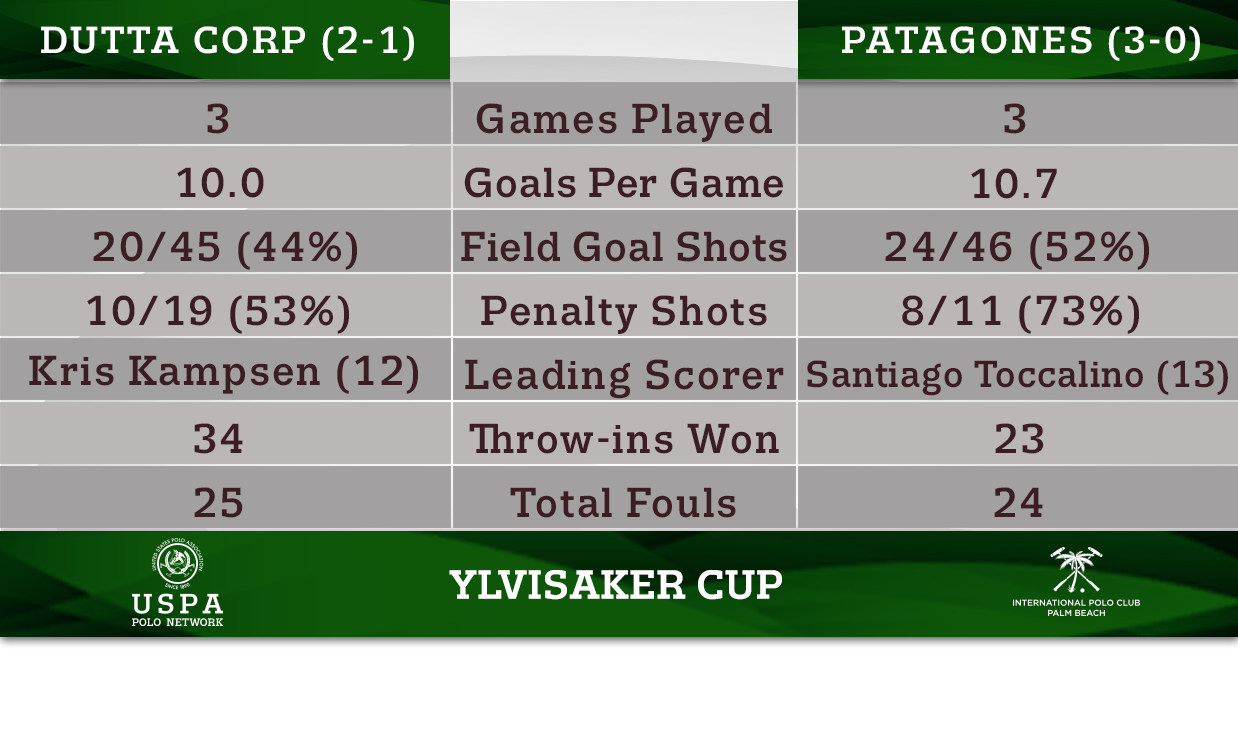 After an intense final day of group play in the 2019 Ylvisaker Cup, eight teams have been reduced to just four, as the tension rises entering the anticipated semi final match-ups on Wednesday at the International Polo Club Palm Beach. La Indiana will look to defeat tournament favorite, Pilot, while Dutta Corp and Patagones will clash for the fourth time this season, with Dutta Corp claiming the previous three encounters.
With 12 games completed thus far, Pilot has arguably been the most dominant team of the tournament, producing a style that is centered around controlling possession. Pilot has beaten teams in a variety of ways, using an efficient open play attack that has seen Facundo Pieres and Lucas James rank 1st and 2nd in field goals, while Matias Gonzalez ranks tied for 6th.  The entire team has effectively blocked for the ball carrier, as Pilot has used their extra possessions effectively to overwhelm their opponents. Claiming 12.7 throw-ins wins per game – most among all teams – Pilot's possession has kept the ball in the offensive half, which has also impacted their defense, where they are tied for the fewest goals allowed. While Pilot can match any team from the field, their proficient attack extends to the penalty line, where Facundo Pieres has been flawless, shooting a perfect 9 for 9, including 4 for 4 from the 60-yard line.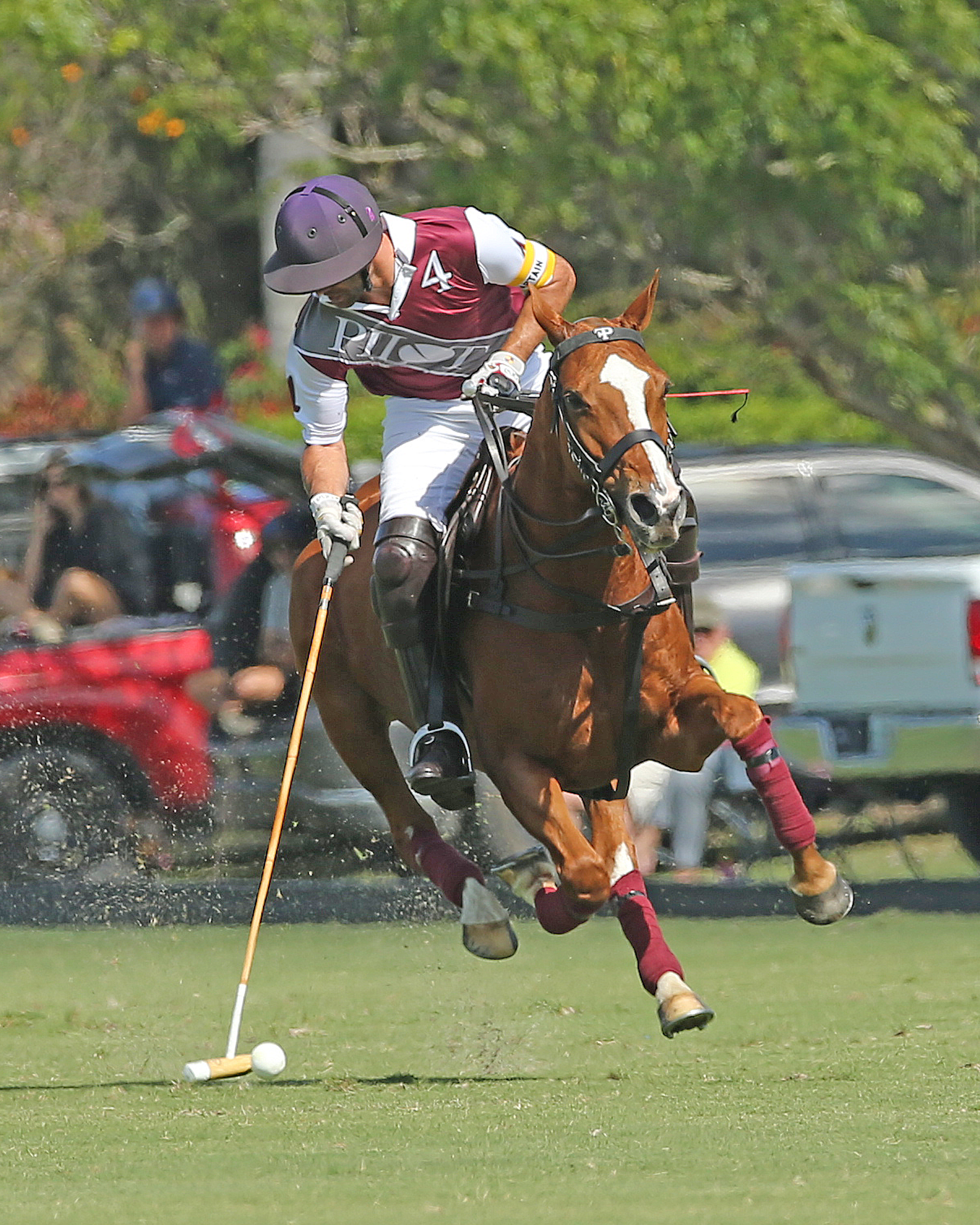 La Indiana counters with a balanced offensive attack that sees all four players average between 1.0 and 1.7 field goals per game. Accurately finding patron Michael Bickford and Toly Ulloa down field with the pass, La Indiana has been able to stretch the field to create the space they need to win the open play battle. Through three games, the area of the game that has held La Indiana back has been their accuracy from the field and the penalty line. Receiving the most penalty attempts per game, along with being in the top half of the tournament in shot attempts, La Indiana has been controlling play, but have shot just 37% from the field and 55% from the penalty line ranking 7th and 6th respectively. La Indiana will need to convert their chances to keep up with the potent offense of Pilot but can produce a strong team performance in open play that can contain Pilot. La Indiana will look to slow the Pilot attack and create a quick offensive transition with a passing attack, using Bickford and Ulloa as receivers. Pilot will look to enforce their style of play led by Pieres to continue their undefeated run through the tournament.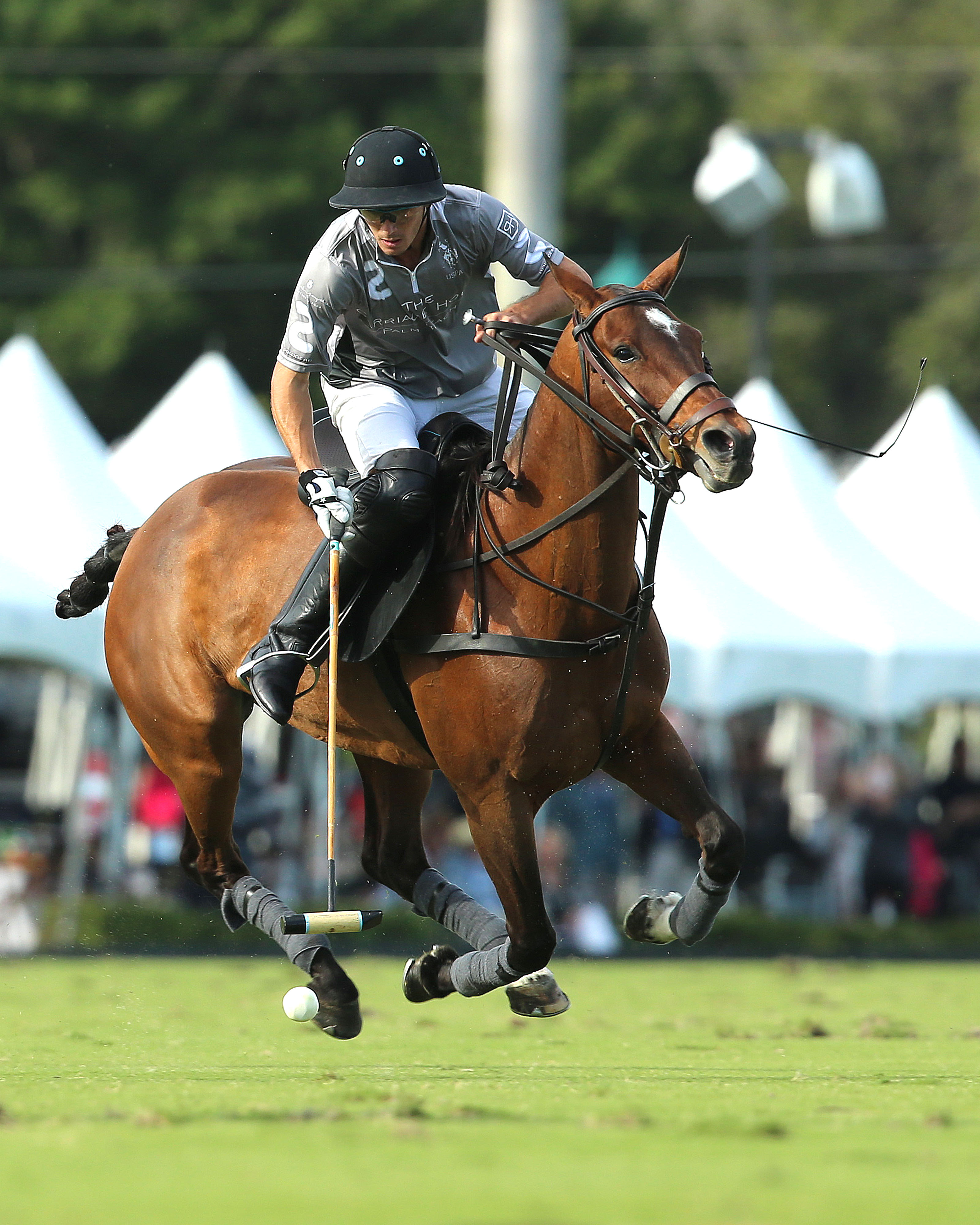 The second semi final features a recurring match-up between Dutta Corp and Patagones, but it has been Dutta Corp that has held the advantage. Claiming consecutive MVP's Gringo Colombres starred throughout the Joe Barry Cup, yet the Ylvisaker Cup has seen the emergence of Kris Kampsen, who leads the team with 4.0 goals per game and 2.7 assists per game. Dutta Corp has built a consistent attack beginning with their performance in set plays, where they have maintained possession in a controlled attack. While Kampsen has impacted the team offensively, he has also been crucial to Dutta Corp's defense, working side-by-side with Colombres to allow just 7.3 goals per game. Winning games in a variety of ways, Dutta Corp can score at a high rate, or succeed in a defensive battle, that was evident in their final game against Tonkawa.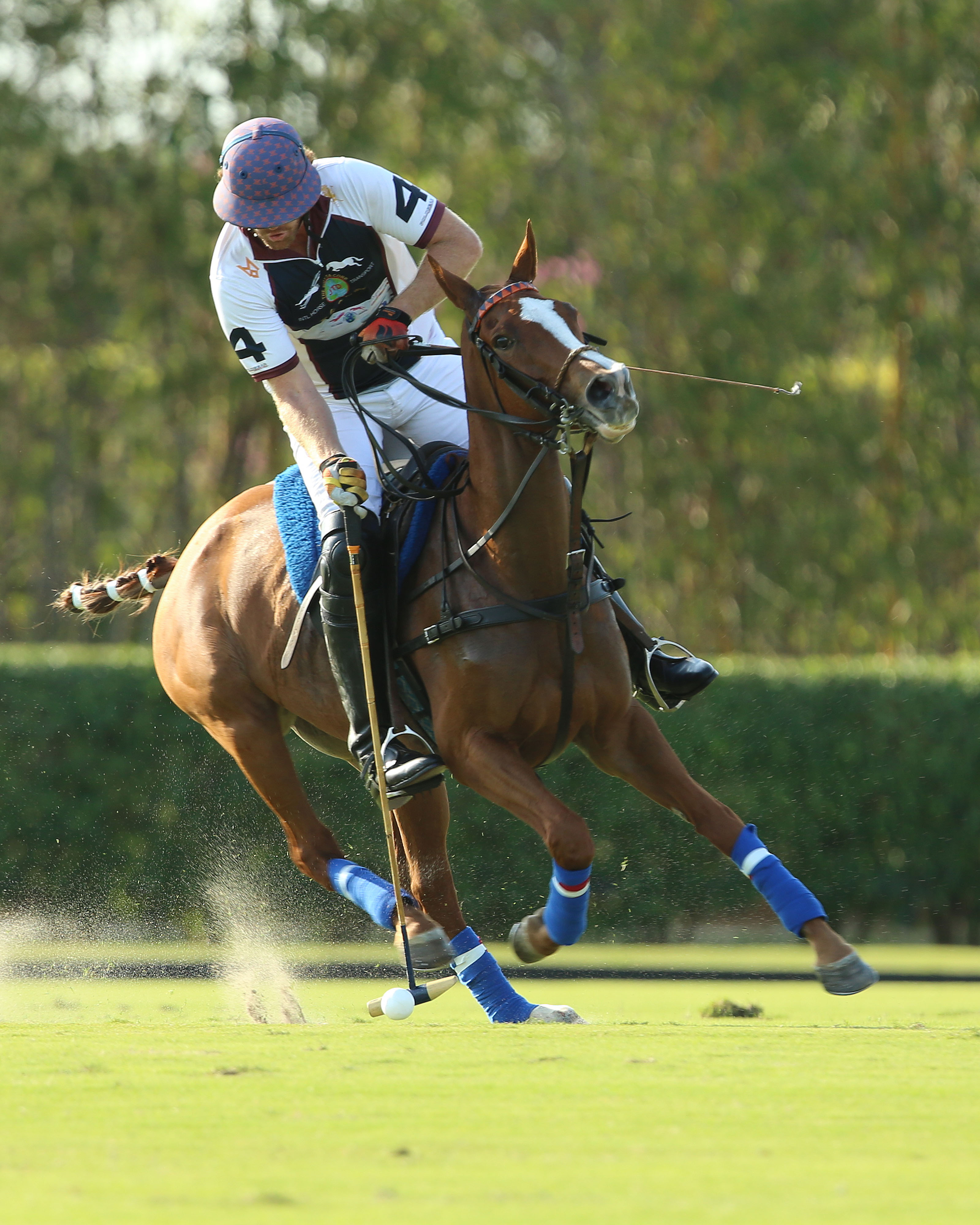 Patagones looks to finally break through against Dutta Corp and have displayed an impressive performance in their first three games of the Ylvisaker Cup. The story for Patagones may be the connection between Tomas Garcia del Rio and Benjamin Avendano. Leading the tournament with 4.0 assists per game, Garcia del Rio has provided Avendando with multiple opportunities in the attacking half and he has finished accurately, converting 64% of his shots to rank 3rd in field goals, tied with notable 10-goaler Sapo Caset. Patagones' success comes from their performance in open play, as they have produced the second most shot attempts. Patagones have also kept the ball off the penalty line committing the second fewest fouls in the tournament. In Wednesday's match-up against Dutta Corp, they will need to continue their passing attack led by Garcia del Rio and direct their passes away from Kampsen and Colombres who have provided difficulties for Patagones in previous match-ups. Both semi-finals create intriguing match-ups as the four remaining teams fight for a spot in the final of the last 20-goal tournament of the season at IPC.