USPA Gold Cup® Bracket Preview
The second leg of the GAUNTLET OF POLO™ begins Thursday at the International Polo Club Palm Beach, after Pilot claimed the single elimination C.V. Whitney Cup. Attention now turns to the USPA Gold Cup® with the 16 teams entering bracket play, where they will play three games against the opponents within their bracket, with the top two teams advancing to the quarter-finals.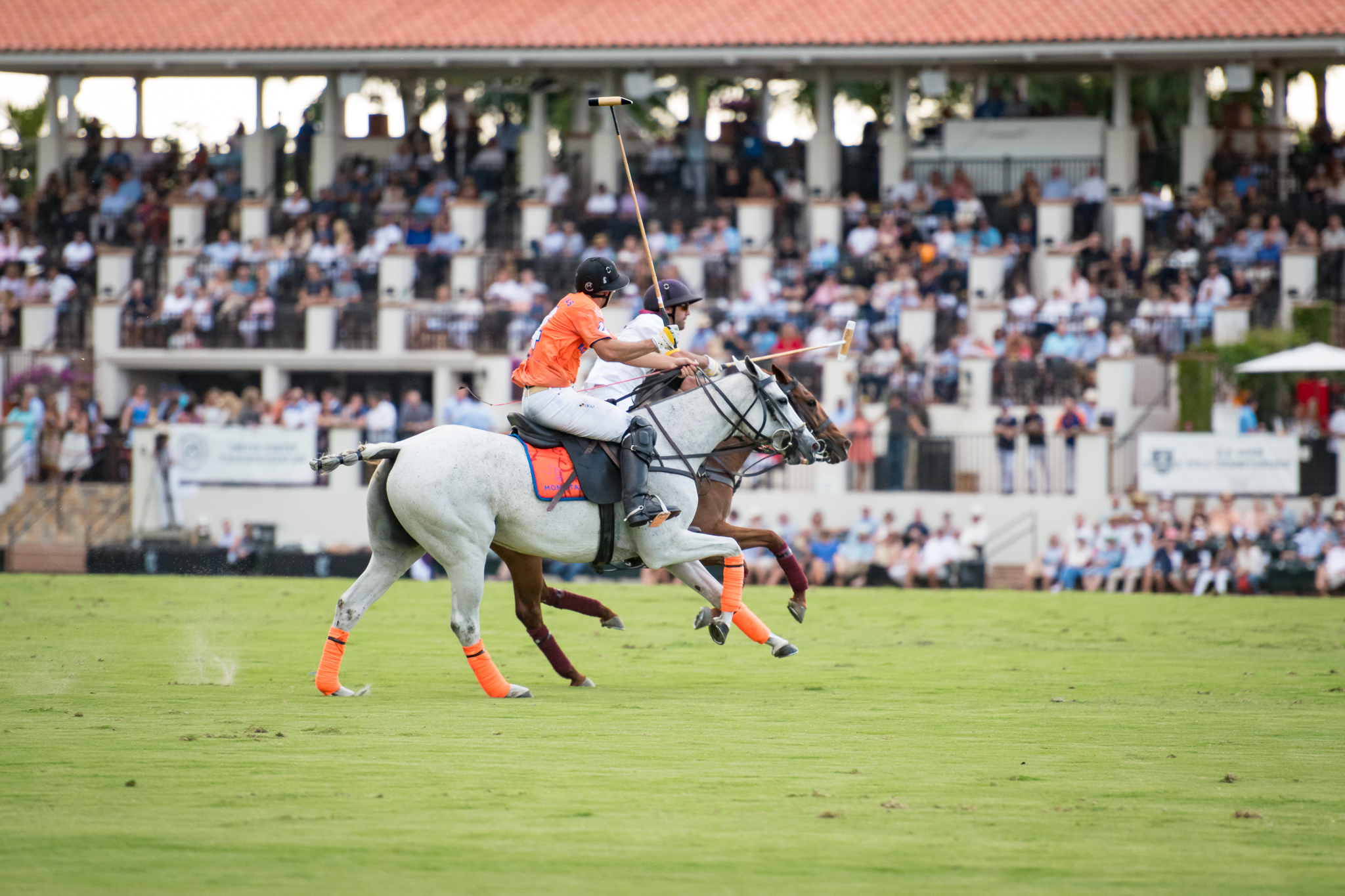 Bracket 1 (Aspen, La Indiana, Park Place, Tonkawa)
The first bracket sees a highly, competitive group of four teams, with two 10-goalers in Aspen's Polito Pieres and Tonkawa's Sapo Caset. Aspen is an intriguing team that received a difficult first round match-up in the C.V. Whitney Cup against eventual tournament champion Pilot. Taking Pilot to the brink and ultimately losing on a final second penalty shot, Aspen has the ability to make a run in the tournament, especially if Polito Pieres produces more eight-goal performances like he did against Pilot. Their first opponent will be La Indiana, who comes into the tournament after a successful semi-final result in the C.V. Whitney Cup. Tomas Garcia del Rio has been a positive addition for La Indiana, playing a strong back position and distributing with precision, finishing tied for third in assists with seven. This has freed up Facundo Obregon and Jeff Hall, who combined for 5.7 field goals per game in the opening tournament.
Park Place showed promise against Coca-Cola and finalist Las Monjitas, producing two strong games and being just one second away from forcing overtime against Las Monjitas. The duo of Nico Pieres and Juan Britos created an effective passing attack for Park Place, but the impact of Tommy Collingwood gave them an edge, with three goals and three assists attributed to the #4 player on Park Place. After a disappointing loss in the opening round in an impressive comeback by SD Farms, Tonkawa looks to extend their first half performance over the entire game. Sapo Caset was the leading per game scorer with nine goals in Tonkawa's lone game, but he will rely on contributions from his teammates, including Agustin Merlos, who won MVP in the Iglehart Cup final victory over Iconica.
Bracket 2 (Coca-Cola, Stable Door Polo, Las Monjitas, Postage Stamp Farm)
Leading Bracket 2 is C.V. Whitney Cup finalist Las Monjitas, who is the only team to advance past the opening round of the tournament. Yet, the remaining three teams provide a stern test with the opening game of the bracket between Stable Door Polo and Coca-Cola. The young team of Stable Door Polo sees 20-goal scoring leader Santiago Toccalino join up and coming players in Victorino Ruiz Jorba, Santino Magrini and Henry Porter. The balance of Stable Door Polo was evident in their game against Daily Racing Form with all four players scoring at least two goals and recording an assist. Coca-Cola counters with a line-up change that sees Steve Krueger step into the line-up. Julian de Lusarreta led the charge offensively with five goals against Park Place, but missed opportunities from the penalty line, where the team finished just 1 for 6 will be an area of focus for the USPA Gold Cup.
Las Monjitas had a strong tournament with Francisco Elizalde falling just a goal behind Facundo Pieres for the tournament lead. Along with 10-goaler Hilario Ulloa, Las Monjitas provides a formidable line-up that is capable of scoring at a high rate. Postage Stamp Farm sees veteran Mariano Aguerre joined by Valerio Zubiaurre, Joaquin Panelo and Annabelle Gundlach. Using a passing based attack, Postage Stamp Farm can stretch the field and challenge Las Monjitas, especially if Gundlach converts in the #1 position as she did against Cessna, scoring three consecutive goals in the third chukker.
Bracket 3 (Cessna, Equuleus, Iconica, Santa Clara)
Bracket 3 features Cessna Polo team, coming off a semi-final showing where they produced a potent defence that gave all three opponents difficulties. The aggressive on-ball pressure by Cessna forces their opponents into turnovers, with Felipe Marquez leading the counter-attack with nine goals and six assists over their three games. Equuleus forms a steady line-up with Mariano Gonzalez manning the back of the game, while brothers Magoo and Inaki Laprida work seamlessly together up front. Falling to Pilot by just one goal in the second round, Equuleus should be considered a threat to win the bracket playing effectively on both sides of the ball.
Coming off a tough overtime loss to Las Monjitas, Iconica can quickly produce offense with Peke Gonzalez scoring four goals his opening game. With the injury to Sebastian Merlos, Gringo Colombres filled in for the Glenn Hart, with Iconica seeking to battle through the loss of their 9-goal player. The face Santa Clara who is led by Ignacio Toccalino, who made a strong 2019 debut with four goals on just five shots against La Indiana. Santa Clara displays an exciting line-up with father-son duo Nico and Luis Escobar working well together to generate offense.
Bracket 4 (Daily Racing Form, Old Hickory Bourbon, Pilot, SD Farms)
The final bracket contains the remaining team fighting for the $1,000,000 prize in Pilot as they strive to capture the second leg of the Gauntlet of Polo™. Gonzalito and Facundo Pieres have played at a high level to begin the season with both ranking in the top 3 in both goals and assists. They continue their run against SD Farms, who completed an exciting comeback in their first game against Tonkawa. They will look to slow Pilot with a backline of Juan Ruiz Guinazu and Peco Polledo, who both had three goals and three assists through two games.
Lastly, Daily Racing Form squares off against Old Hickory Bourbon with their balanced line-up that features a trio of six-goalers. Jared Zenni proved he can manage a game in the back, with six assists, while Geronimo Obregon was a scoring threat, finishing with a team-high 4.0 goals per game. Old Hickory Bourbon seeks to bounce back from an opening loss to Equuleus, led by Miguel Novillo Astrada who was effective on both sides of the ball, scoring three goals. Will Johnston will be a key player for Old Hickory Bourbon, producing multiple offensive chances and effectively moving the ball down field with consistency.