FOR IMMEDIATE RELEASE
Courtesy of United States Polo Association 
Wellington, FL – September 15, 2020 – The United States Polo Association and International Polo Club Palm Beach (IPC) in Wellington, Florida, are pleased to announce the 2021 high-goal polo tournament schedule. The season will begin on Sunday, January 3, 2021 with the Joe Barry Cup and conclude on Sunday, April 18, 2021 with the U.S. Open Polo Championship® Final.
Prior to the start of the 2021 GAUNTLET OF POLO® series, the remainder of the 2020 USPA Gold Cup® which was postponed due to COVID-19 will be played. The semifinals will commence Wednesday, February 10 and culminate with the final on Sunday, February 14. The 2021 GAUNTLET OF POLO® will return for the third year to the U.S. Polo Assn. Field on Wednesday, February 17, with the start of the C.V. Whitney Cup. IPC will also be welcoming back the U.S. Open Women's Polo Championship® beginning on Wednesday, March 10 and concluding with the final on Saturday, March 20. The closing date for teams for both the 18-goal series and GAUNTLET OF POLO® is Sunday, November 15, while the closing date for the U.S. Open Women's Polo Championship® is Tuesday, December 15. Plans regarding spectators, stadium seating, and brunch in the Pavilion are still being finalized and will be released soon. The safety of staff, players and spectators are of the utmost importance, so the Club will be introducing various safety protocols. Please visit the InternationalPoloClub.com for updates regarding the new procedures.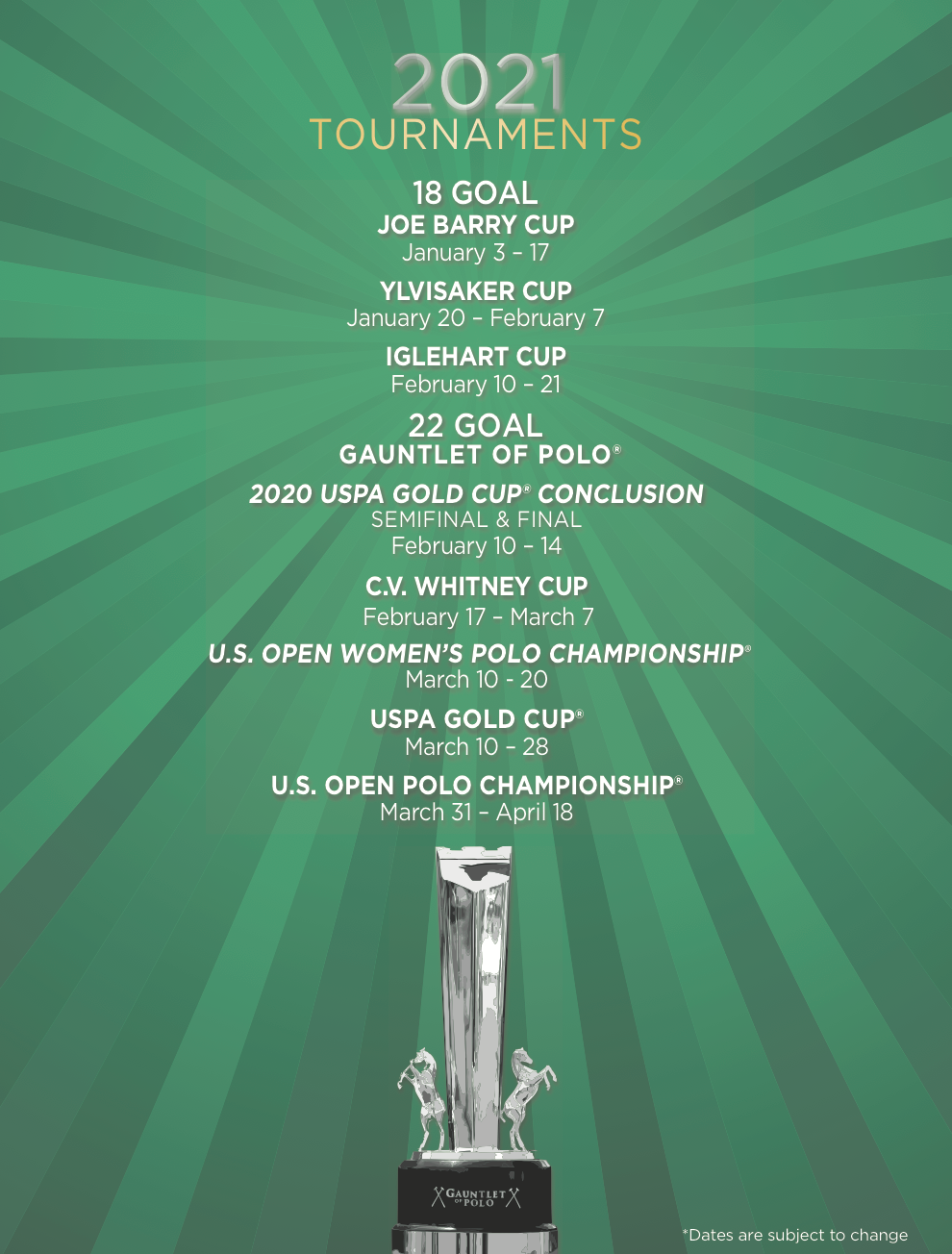 Due to COVID-19, the 2020 season was unexpectedly cut short with both the USPA Gold Cup® and U.S. Open Polo Championship® postponed. The four semifinalist teams will compete for the USPA Gold Cup® a year later for a chance to claim the second trophy in the 2020 GAUNTLET OF POLO®. Contact Polo Manager Haley Bryan at (803) 215-3577 or hbryan2485@aol.com to discuss season plans. For more information, please visit uspolo.org. All tournaments except the Iglehart Cup will be livestreamed on Global Polo TV. Visit globalpolo.com to sign up today.
2021 IPC POLO SCHEDULE*
18-Goal
Joe Barry Cup (16-18 Goal)
Tournament Dates: January 3 – 17, 2021
Closing Date: November 15, 2020
Ylvisaker Cup (16-18 Goal)
Tournament Dates: January 20 – February 7, 2021
Closing Date: November 15, 2020
Iglehart Cup (16-18 Goal)
Single Elimination
Tournament Dates: February 10-21, 2021
Closing Date TBD
IPC will host this tournament provided there are enough teams and resources 
22-Goal GAUNTLET OF POLO®
22 Goal Warm Up
February 1-14, 2021
2020 USPA Gold Cup® Conclusion- Semifinal & Final
Tournament Dates: February 10-14, 2021
C.V. Whitney Cup (18-22 Goal)
Tournament Dates: February 17 – March 7, 2021
Closing Date: November 15, 2020
U.S. Open Women's Polo Championship®
Tournament Dates: March 10-20, 2021
Closing Date: December 15, 2020
Limited to eight teams
USPA Gold Cup® (18-22 Goal)
Tournament Dates: March 10-28, 2021
Closing Date: November 15, 2020 
U.S. Open Polo Championship® (18-22 Goal)
Tournament Dates: March 31 – April 18, 2021
Closing Date: November 15, 2020
*Please note dates are subject to adjustment