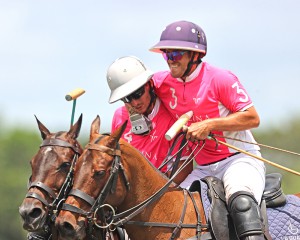 The 2022 Gauntlet of Polo® draws to a conclusion with the U.S. Open Polo Championship® final between La Elina and Pilot on Sunday, April 24 at the International Polo Club Palm Beach (IPC). The historic season has featured memorable moments beginning with Park Place raising the C.V. Whitney Cup® and Pilot returning to the winner's stage with the USPA Gold Cup® title. In a season where 20 teams competed in the U.S. Open Polo Championship® for the first time in its 118-year history, 81 games will have been played in the Gauntlet and two players have eclipsed the 100-goal mark (Hilario Ulloa and Facundo Pieres), it all comes to an end on U.S. Polo Assn. Field 1 for the most prestigious trophy on U.S. soil.
Two different roads were taken to Sunday's final by the two remaining teams, as Pilot has stormed their way through the competition to remain undefeated since a semifinal loss in the C.V. Whitney Cup® on February 23rd. Reeling off ten consecutive victories since then, Pilot looks to recapture the U.S. Open Championship® title that they captured in 2019 during the inaugural Gauntlet of Polo®. Meanwhile, La Elina has faced a tumultuous journey that began in the USPA Gold Cup® but truly developed at the start of the tournament when a new line-up of three Obregon's (Juan Martin, Geronimo and Facundo) joined Jared Zenni. A hard-fought overtime loss to Scone in their first match displayed the potential of La Elina's new roster and they are unbeaten since with five straight victories, battling through the play-offs to reach the season finale.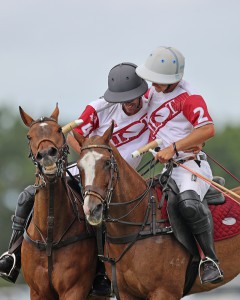 10-goaler Facundo Pieres has produced an exceptional season at the helm of Pilot's attack as no player has scored more goals, converted more penalties, or won more throw-ins. Impacting each and every game, Pieres has been the driving force of Pilot's success, utilizing phenomenal horsepower that has resulted in him singlehandedly winning four Best Playing Pony awards in the tournament with KY Goldilocks, Open Candy Kiss, Open Serenety and Corcha. Elevating the play of his teammates around him, Pieres and the Pilot organization began work in Argentina long before they stepped on the fields at IPC this season, competing with their line-up in the Jockey Club Open in September. Alongside Pieres at the back of the game, Matias Torres Zavaleta has excelled in his role and provided crucial scoring on efficient runs to goal, including a go-ahead goal in the sixth chukker of their semifinal victory. Working well off the ball while passing accurately ahead, Zavaleta has been the stable presence that has contributed to Pilot's tournament-best defense that has conceded just 6.8 goals per game. The emergence of young Mackenzie Weisz, averaging nearly 2.5 goals per game on the season has provided the secondary scoring for Pilot when opposing teams try to slow Pieres. With Curtis Pilot constantly working off the ball to free space, Pilot has demonstrated how they can win in a multitude of ways with scoring outbursts or a stout defense, leaving La Elina with a difficult task in Sunday's final.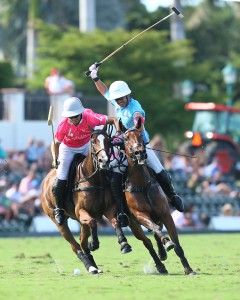 Showcasing a different line-up with two 5-goalers and two 6-goalers, La Elina's chemistry among their four players has been evident in how quickly they have come together and seamlessly produce a passing attack that places them near the top of open play scoring due to all four players averaging at least 1.7 goals per game. Tied for fifth in tournament scoring at 6.3 goals per game, Juan Martin Obregon has played a true #1 position, leading La Elina in shot attempts and converting at an impressive 62% rate. Utilizing the pass to goal better than any other team, La Elina produces 6.2 assists per game and finds the mismatch on the opposing team at any given moment, with Geronimo Obregon tying for the team lead in assists and making the key plays in the middle of the action. Often directing play from the #3 position, Facundo Obregon has demonstrated horsepower of his own, collecting three Best Playing Pony awards and running past defenders to kickstart La Elina's transition offense, while adding 2.7 field goals per game of his own.
Jared Zenni returns to the U.S. Open Polo Championship® final for the first time since 2018, bringing back memories of Daily Racing Form's remarkable upset victory against a Valiente team that featured upcoming opponent Facundo Pieres alongside Adolfo Cambiaso. Handing that team their only loss of the year, Zenni and the La Elina team will fight for a similar result as they try to hand Pilot their first loss in two months in a must-see final on Sunday, April 24 at 3:00pm ET at U.S. Polo Assn. Field 1.
Photo Captions: 1) Jared Zenni and Facundo Obregon of La Elina riding off after their victory over Tamera ©Alex Pacheco
2) Facundo Pieres and Mackie Weisz of Pilot ©Alex Pacheco
3) Jared Zenni of La Elina and Tommy Collingwood of Aspen Valley ©Alex Pacheco