Team Profile: Stable Door Polo
An exciting day of polo on Sunday at the International Polo Club Palm Beach (IPC) will start with a match-up between Stable Door Polo and Las Monjitas, with both teams holding a 2-0 record. The youthful Stable Door Polo (Henry Porter, Santino Magrini, Victorino Ruiz Jorba, Santiago Toccalino) line-up produces a fast-paced style of play that has seen significant contribution among all four players. Fighting to claim the #1 seed in Bracket 2, Stable Door Polo will rely upon their balanced team strategy to remain undefeated leading into the quarter-finals of the USPA Gold Cup".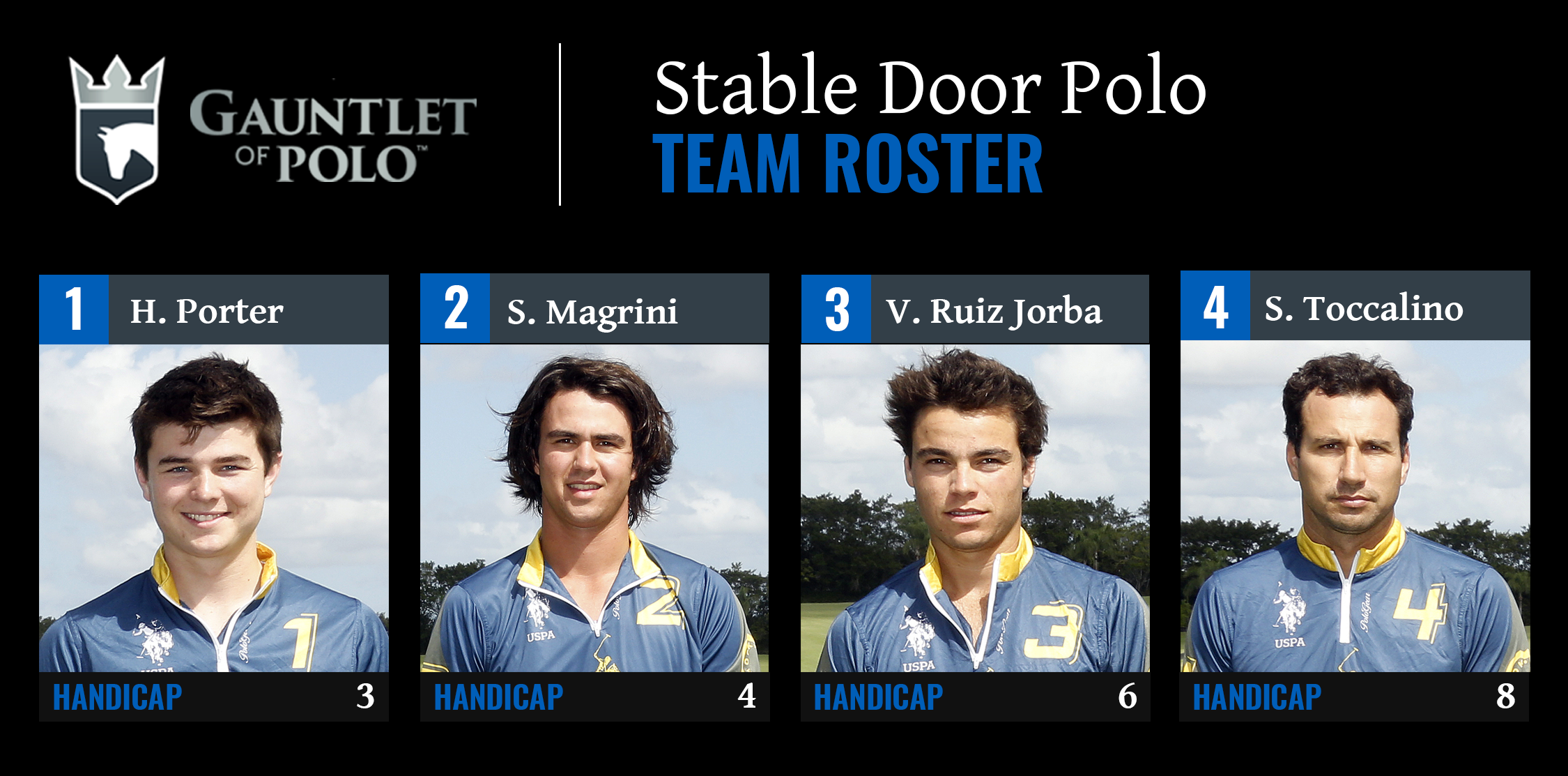 Stable Door Polo has produced a true front-to-back line-up through their three games in the GAUNTLET OF POLO™, evident by Henry Porter leading the team with 3.7 goals per game in the #1 position, and Santiago Toccalino leading the team with 3.7 assists per game in the #4 position. The leading scorer throughout 20-goal play at IPC, Toccalino has effectively adapted to his teammates, continuing to score at a high rate with 2.3 goals per game, but distributing more often from the back of the game. Leading all players with 5.0 assists per game in the USPA Gold Cup, Toccalino has positively impacted the young players in front of him, who are all shooting above 50% from the field.
Porter has been a stand-out player of the tournament thus far, completing long runs with accuracy to score 8 of his team's 18 field goals. Converting 67% of his shots, Porter has efficiently moved the ball down the field, helping Stable Door Polo gain the field advantage. Alongside Porter, Santino Magrini has been active in the middle of the field, causing turnovers and helping transition the team from offense to defence, while also converting at over 60% from the field for Stable Door Polo. An up and coming player, Victorino Ruiz Jorba has continued to climb the handicap ratings, increasing from a 4 to 6-goal handicap in recent years. The next step in his progression has been seen this season at IPC, continuing to be a dynamic scorer, but being a crucial player next to Toccalino in the back of the game. Improved defensively, Jorba has been the key transitional player for Stable Door Polo, falling just in behind Toccalino with 2.7 assists per game in the Gauntlet of Polo™.
Stable Door Polo may use their balanced line-up better than any team in the USPA Gold Cup®, with Jorba and Toccalino pushing the ball forward, while Porter and Magrini finish with accuracy downfield. The ability of them to stretch the field caused problems for Postage Stamp Farm and Coca-Cola through their two games and will be crucial in a tough test against C.V. Whitney Cup finalist Las Monjitas on Sunday at 10:00 a.m. at IPC