Entering this Sunday's feature 3pm game against SD Farms, Dutta Corp (Timmy Dutta, Lucas Diaz Alberdi, Gringo Colombres, Kris Kampsen) have proven to be a team to beat, playing a fast, exciting style of polo that helped them capture the opening Herbie Pennell Cup. After a thrilling 11-10 victory to open the season, Dutta Corp returns to field #1 in front of a packed grandstand after back-to-back wins. The success of Dutta Corp early into the 20 goal season, can be attributed to a balanced offense that has seen all four players score at least 3.0 goals per game while playing at a lightning fast pace.
The potent attack has been led by Lucas Diaz Alberdi and Gringo Colombres, who have combined for 19 goals on a perfect 100% shooting from the field; an impressive feat through two games. The duo provided difficulties for both Patagones and Santa Clara, running confidently with the ball and converting their opportunities around goal, with Alberdi leading the way after a seven-goal performance against Santa Clara. Equally as effective, Colombres has been seemingly everywhere on the field, providing a defensive presence for Dutta Corp while choosing the right time to move forward and impact the game offensively.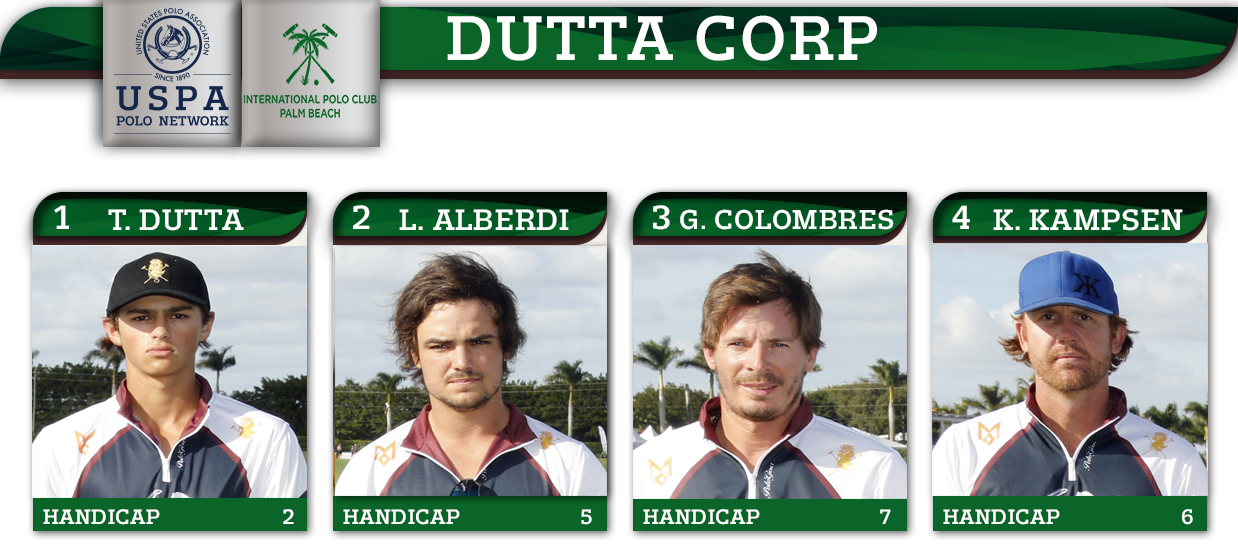 With the focus placed on Alberdi and Colombres, attention should not be taken away from the young Timmy Dutta who has played well above his 2 handicap in his team's two victories. Playing a consummate number 1 position, Dutta has stretched the field for Dutta Corp, providing space for his teammates while also being an active receiver down field. Second on the team in shots with 5.0 shots per game, Dutta has been crucial to Dutta Corp's early offensive success. With Dutta pulling the team forward, it has been Kris Kampsen that has been the steady presence in the number 4 position, protecting against counter-attacks and providing his three teammates with the ability to move forward in the game and attack relentlessly. Kampsen has also been tasked with the penalty taking duties for Dutta Corp, converting all four of his attempts from the penalty 2 and 3 lines.
After the dominant 21-10 victory, Dutta Corp's offense will continue to be a story as they prepare to face SD Farms, coming into the game averaging 16 goals per game on accurate 76% shooting from the field. The physical style of play by Dutta Corp has been effective in creating turnovers, yet there can be a small cause for concern with their indiscipline, having committed 26 fouls through two games. Despite conceding 17 penalty attempts, Dutta Corp has overwhelmed their opponents with their dominance in open play. With the Joe Barry Cup in full swing, Dutta Corp will look to continue their balanced offense and claim their third consecutive victory to open the season.