Team Profile: Aspen
A last second loss in the opening round of the C.V. Whitney Cup to eventual tournament champions Pilot abruptly ended Aspen's first leg in the GAUNTLET OF POLO™, but they have shown they are a team to watch, holding an undefeated 3-0 record in the USPA Gold Cup® to claim the top seed in Bracket 1. A line-up consisting of USPA Secretary Stewart Armstrong, Tomas Schwencke, Lucas James and Polito Pieres has produced one of the more potent attacks, averaging 9.8 goals per game. With all the firepower that Aspen brings, it has been their defence that has been the key component to their success.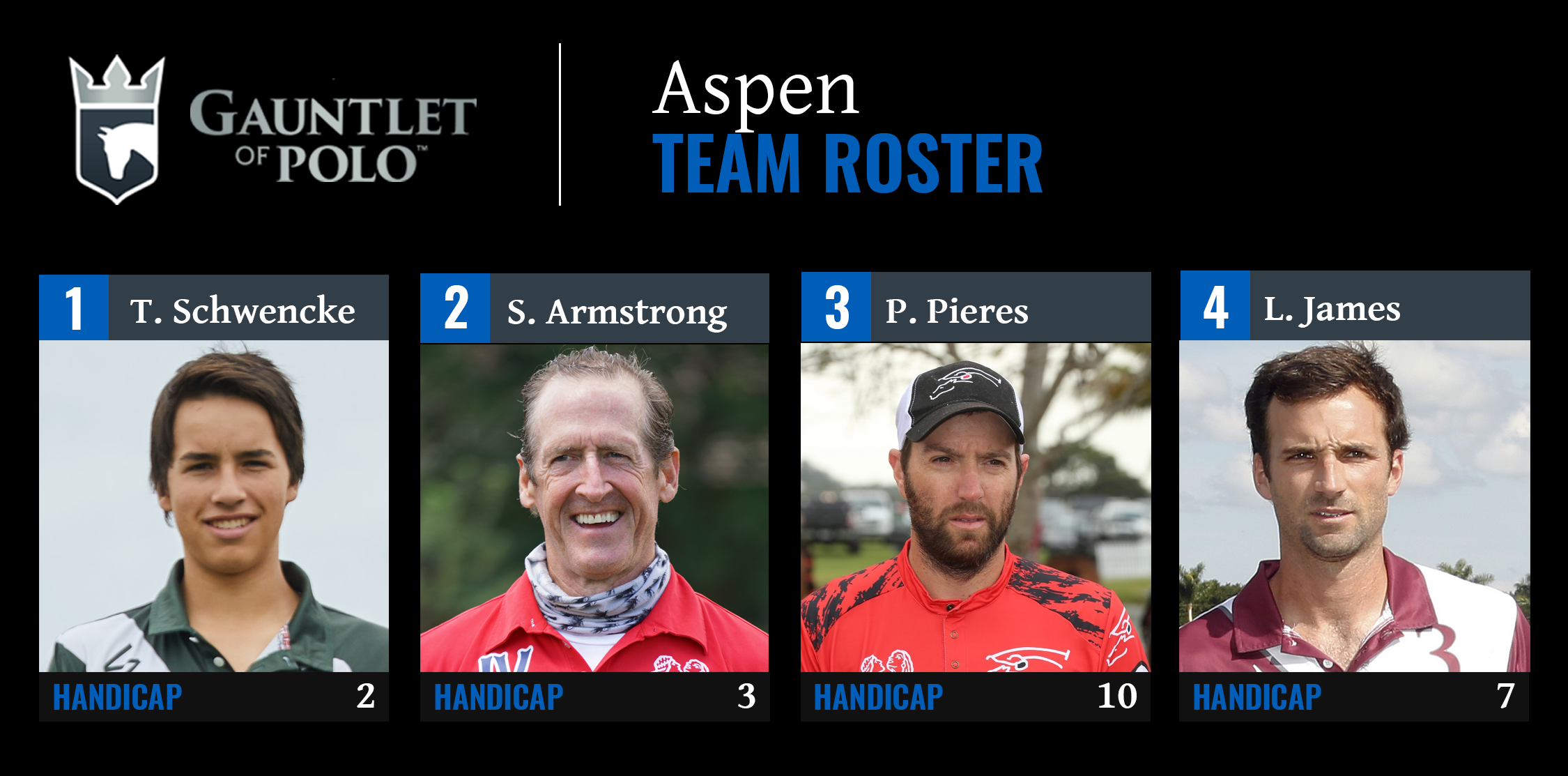 Conceding just 6.7 goals per game in the USPA Gold Cup®, Aspen ranks first among all teams due to a high-pressure style of defence that has proved to be effective. With 10-goaler Polito Pieres leading all players with 9.3 shots per game, he has also raced back on defence to join an organized back line with Lucas James. The support of James against the counter-attack has displayed the discipline of Aspen, while Armstrong and Schwencke have been active in the middle of the field. The crucial aspect of Aspen's defence is in their opponent's inability to finish around goal, with Aspen forcing shots from distance and contested runs to goal, resulting in their opponents converting just 33% of their shot attempts; an impressive 16% below the tournament average.
On the other side of the ball, Aspen can produce a relentless offense that has kept them in the lead from start to finish in two of their three games in the USPA Gold Cup. Combined with a strong defence, opponents have been unable to generate a comeback against Aspen, but even when faced with adversity, Aspen can utilize a potent offense of their own, evident in their 3-0 sixth chukker against Park Place that resulted in a 9-8 victory.  Attention goes to Polito Pieres, who trails just Facundo Pieres and Sapo Caset in goals per game with 6.0, but his opportunities have come from a combined team effort that has been difficult for opponents to contain. Ranked fifth with 2.7 assists per game, Lucas James has excelled in the role of distributor, protecting the back end, while simultaneously starting Aspen's attack. Armstrong has also taken advantage of Aspen's passing downfield, converting 67% of his shots for four field goals.
Entering the quarter-finals, Aspen will strive to continue their defensive performance in an effort to slow the quick passing attack of Stable Door Polo. The elite scoring of Pieres alongside the consistency of his teams, all averaging 1.3 goals per game, sets up an exciting match at 3pm on the U.S. Polo Assn. Field 1 at the International Polo Club Palm Beach.