Making his 2021 debut in the Ylvisaker Cup, 9-goaler Diego Cavanagh joins Tamera as the highest-rated player in the tournament, putting that status on display in his second game, a victory against Beverly Polo where he led all players with six goals. Cavanagh enters the season at the International Polo Club Palm Beach (IPC) after a memorable 2020 year in Argentina, where he excelled on La Dolfina Polo Ranch, finishing seventh in the Triple Crown in scoring with 37 goals. Playing a prototypical #3 position, Cavanagh plays end-to-end polo, able to score at a prolific rate, while also active on the defensive end.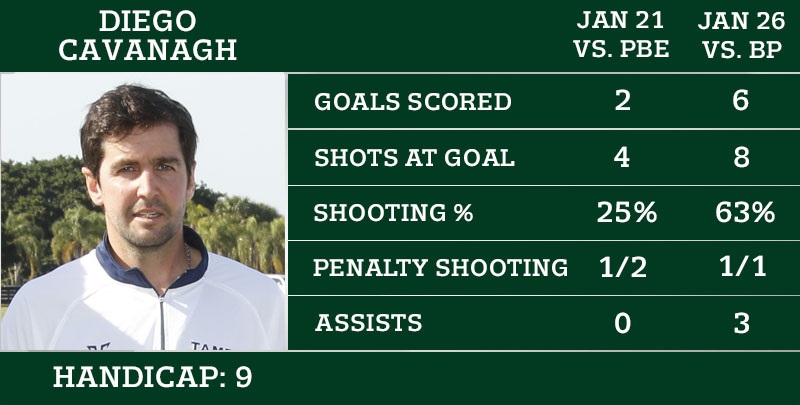 Playing at the highest level of polo internationally in the USA, UK, and Argentina, Cavanagh's most notable achievement comes on the fields at IPC where he captured the "American Triple Crown – C.V. Whitney Cup, USPA Gold Cup®, U.S. Open Polo Championship®," now known as the Gauntlet of Polo™ in 2017 with Valiente alongside Adolfo Cambiaso. His progression over the past few years has culminated in the announcement that he will be joining the iconic La Dolfina team in Argentina in 2021, a team that has captured the Abierto Argentino de Polo eight consecutive times. His recent success in Argentina, along with the UK, where he filled in for the injured David Stirling this past year to capture the King Power Gold Cup, places Cavanagh among the elite players in the sport. Averaging 4.6 goals per game during the UK season, Cavanagh continues to be an offensive force across each season. With fond memories of the 2017 run through the then 26-goal tournaments, Cavanagh is a player to watch throughout the remainder of the Ylvisaker Cup, with the potential to continue his exceptional scoring from Tuesday's victory.  
Scoring the first three goals of the game in just over four minutes of play, Cavanagh single-handedly took over the match, ultimately finishing with six goals and three assists in his second game of the year and building chemistry with new teammates Alejandro Poma, Lucas Escobar, and Luis Escobar. Cavanagh and the Tamera team return to play during the feature game on Sunday at 3 pm EST on the Home of the U.S. Polo Assn – Field 1.