A graduating Team USPA member, Costancio 'Costi' Caset joins Palm Beach Equine for the 2021 18-goal season at the International Polo Club Palm Beach (IPC), recently capturing the Bobby Barry Cup on Sunday with the 13-11 victory over Beverly Equestrian. Originally from Santa Barbara, California, Caset has been a consistent presence at the high-goal level at IPC, playing in the 2020 Gauntlet of Polo® along with playing often in Santa Barbara and Argentina. Holding a 5-goal handicap, Caset can often make an impact above his rating as he continues to accumulate experience on the world stage.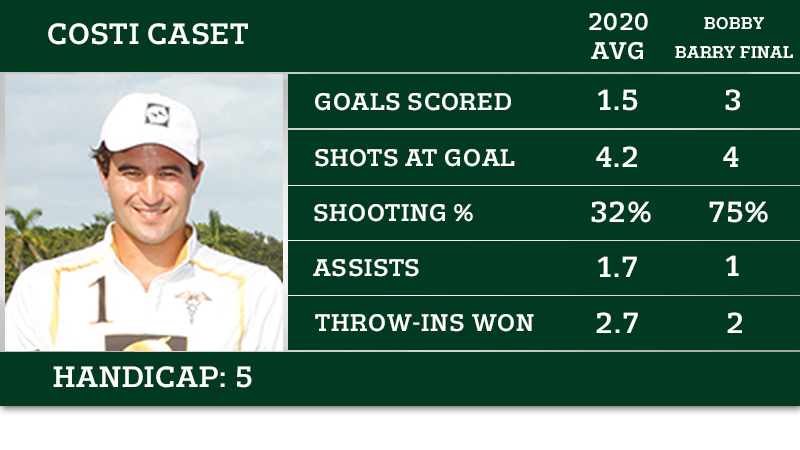 Caset enters the 2021 season after capturing the prestigious Provincia Cup in Argentina with La Cañada, playing alongside fellow Team USPA member Jesse Bray. A tournament he last won in 2013, Caset's experience on the world stage has translated to success on U.S. soil, where his notable title is the 2016 Pacific Coast Open with Restoration Hardware. Named Most Valuable Player, while also winning Best Playing Pony in that tournament, Caset propelled his play forward into the 2017 winter season at IPC, reaching one final and semi-final with Tonkawa at the 20-goal level. Following the stretch of elite play, Caset was chosen as the Team USPA High-Goal Achievement Award recipient in 2017, displaying a level of professionalism and excellence that makes him a mainstay on the high-goal stage. 
Last seen at IPC playing with Daily Racing Form in the 2020 Gauntlet of Polo™, Caset scored nine goals through six games before play was suspended. Caset is often prominent at the front of the game both in his pressuring his opponent and finishing around goal, producing more than four shots per game last year. Whether he is in the #1 or #2 position, Caset has been effective passing and gaining possession for his team, assisting on nearly two goals per game and proving to be a catalyst for Daily Racing Form's offense. In Sunday's Bobby Barry final to open the season, Caset provided a spark in the second half, scoring three goals, while also adding an assist as part of the strong Palm Beach Equine attack. 
Entering the upcoming Joe Barry Memorial, beginning with Wednesday's rematch at 3 p.m. against Beverly Polo, Caset will be relied upon to continue his contribution offensively and push the Palm Beach Equine attack forward, working effectively with teammates Gringo Colombres and Lucas Diaz Alberdi. Participating in a complete 18-goal season that will include the Joe Barry Memorial and Ylvisaker Cup, Caset will be a player to watch on the fields of IPC as Palm Beach Equine looks to continue their success from Sunday and challenge for the Joe Barry Memorial title.