The 2021 Joe Barry Memorial is slated to conclude at the International Polo Club Palm Beach (IPC) on Sunday at 3 p.m. as Santa Clara faces Beverly Polo on the Home of the U.S. Polo Assn – Field 1.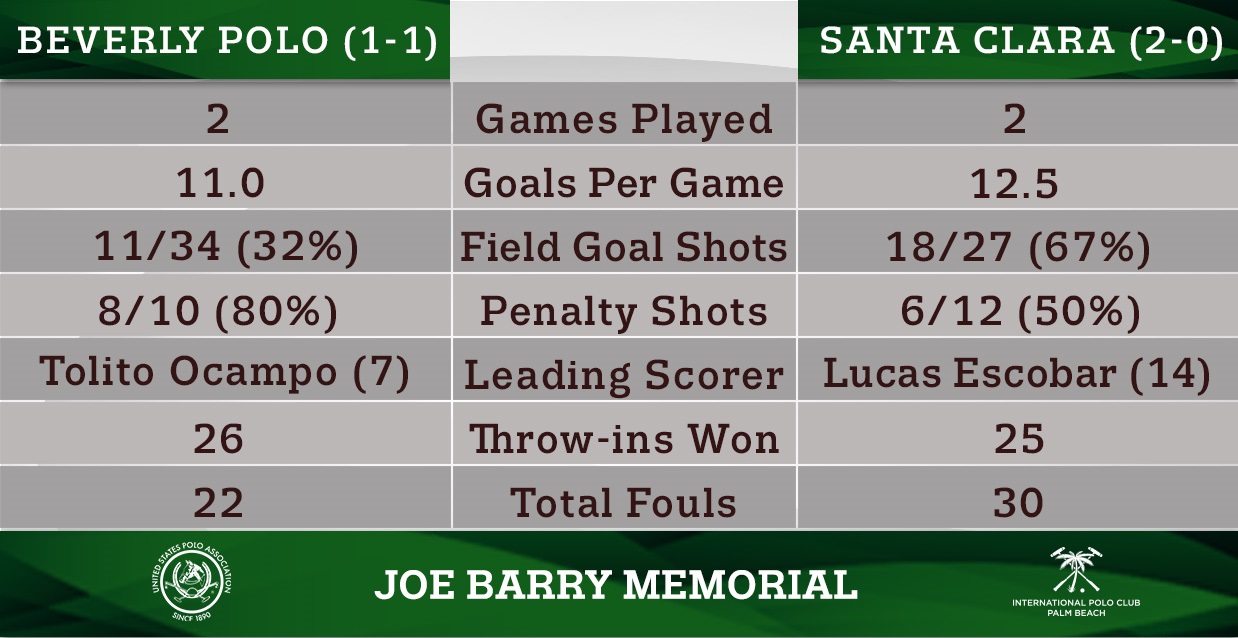 The only remaining undefeated team, Santa Clara showcases a unique line-up of father-son duos in Kristos 'Keko' Magrini/Matias Magrini and Lucas/Luis Escobar, bringing both a youthful energy that places them at the top of the tournament in goals, as well as the extensive experience of their fathers to effectively direct the play. Pulling off an impressive 14-11 victory against Palm Beach Equine to secure their spot in the finals, Santa Clara is led by Lucas Escobar who has arguably been the story of the tournament thus far. Leading all players with 14 goals, four more than the next closest player, Escobar has been dominant at the front of the game due to his pinpoint accurate shooting, converting 10 of his 11 attempts from the field. Alongside Escobar is Keko Magrini who has been productive in his own right, shooting a perfect 3 for 3 through two games. Arguably, the success of Santa Clara comes from their strategy of having Matias Magrini and Luis Escobar utilize the pass and not overextending themselves, content to let their sons attack goal, resulting in their ranking of first and second in assists. Despite the 2-0 record, Santa Clara has struggled with foul trouble, committing 30 fouls through two games in an area they will need to improve when challenged by the accurate penalty shooting of Beverly Polo.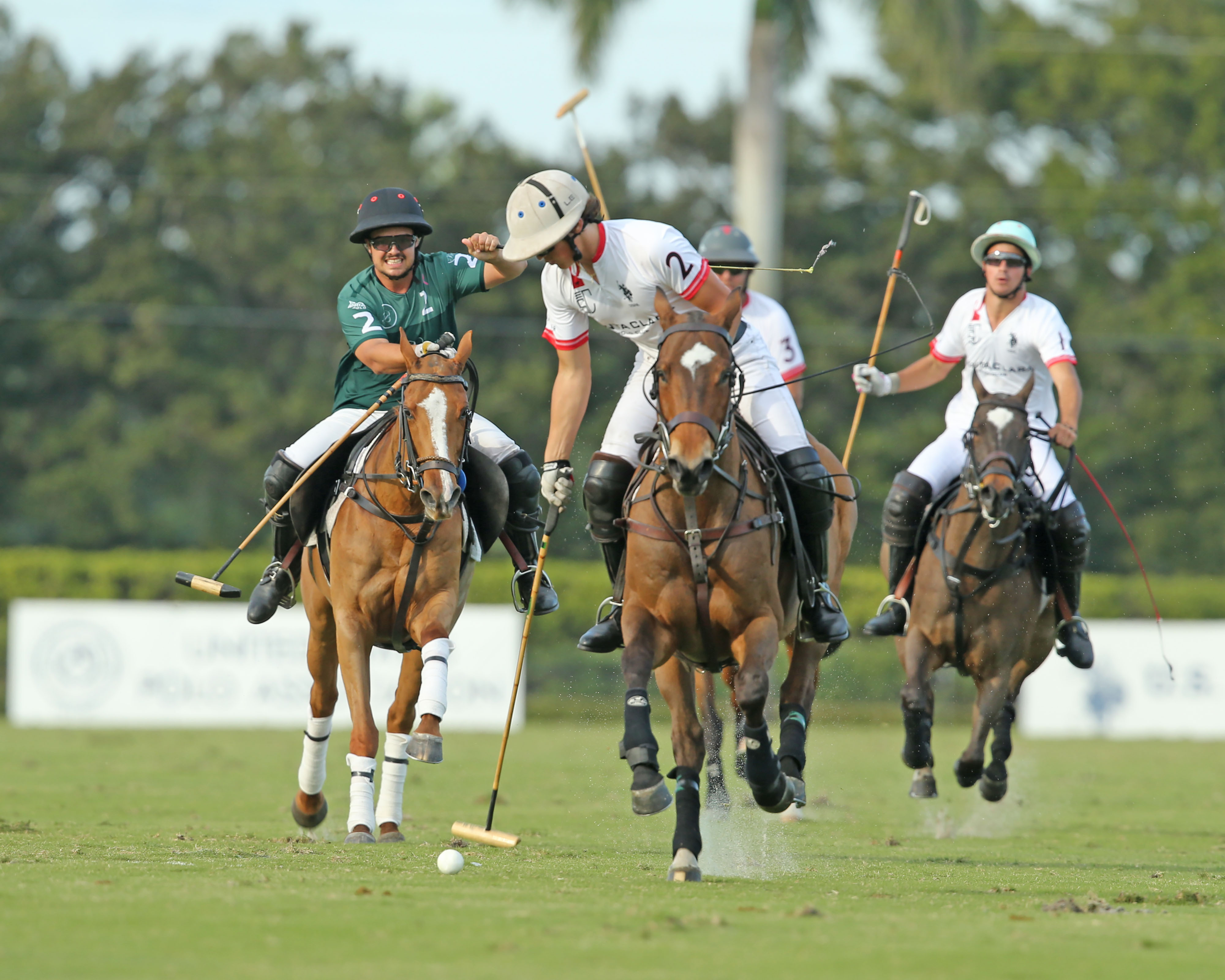 Facing overtime in both of their games, Beverly Polo came out on top in a 12-11 victory over Palm Beach Equine, while falling to Santa Clara 11-10.  With only a bounce or two keeping Beverly Polo from being undefeated, they enter Sunday's final with a rematch against Santa Clara, hoping for a different result. Producing both the most shot attempts and penalty attempts in the tournament, Beverly Polo's offense can control the outcome of the game, but has struggled with their accuracy from the field, converting just 32 percent of their attempts. Tolito Ocampo has led the way for Beverly Polo, scoring seven goals, while combining with Lucas Diaz Alberdi to average 13.5 shots per game as a duo. Penalty shooting has been a strength with Ocampo and Hilario Figueras alternating to shoot an efficient 8 for 10 making that a key factor in their rematch against Santa Clara. The balanced attack of Beverly Polo has been crucial to their success in the season with Bill Ballhaus scoring two important goals in their victory against Palm Beach Equine.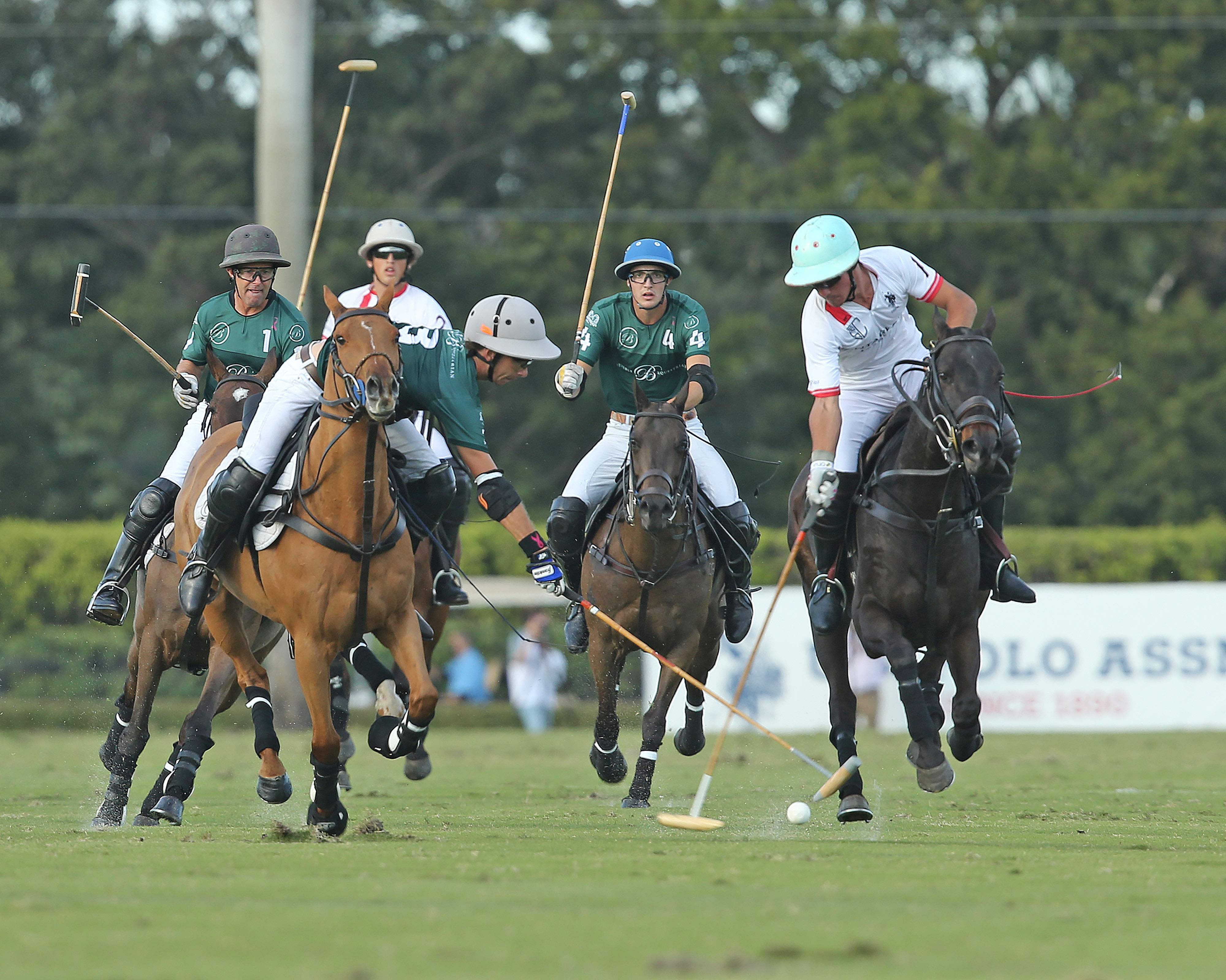 The two teams return to the Home of the U.S. Polo Assn – Field 1 for the second consecutive week, this time with the Joe Barry Memorial title on the line. Santa Clara's Lucas Escobar will be a player to watch as he builds on his tournament scoring lead and follows up an exceptional nine-goal performance in his last game. Beverly Polo's back line of Tolito Ocampo and Hilario Figueras will be focused on slowing the two young players for Santa Clara while still finding their own opportunities to attack forward. With overtime needed to settle the outcome in their last meeting, Sunday's final is set to be a close match and one to watch. Although there is no General Admission, tune in to Global Polo TV at 3 p.m. to see the action.