Cessna Polo Team, Equuleus and Las Monjitas Claim Victories in Round 2
A jam-packed day in the CaptiveOne U.S. Open Polo Championship® at the International Polo Club Palm Beach featured three games, with Cessna Polo Team claiming a 9-8 victory over SD Farms to start play. Equuleus defeated La Indiana 11-10, capturing the winning goal four minutes into overtime, while Las Monjitas captured the 12-10 victory over Old Hickory Bourbon to finish the day.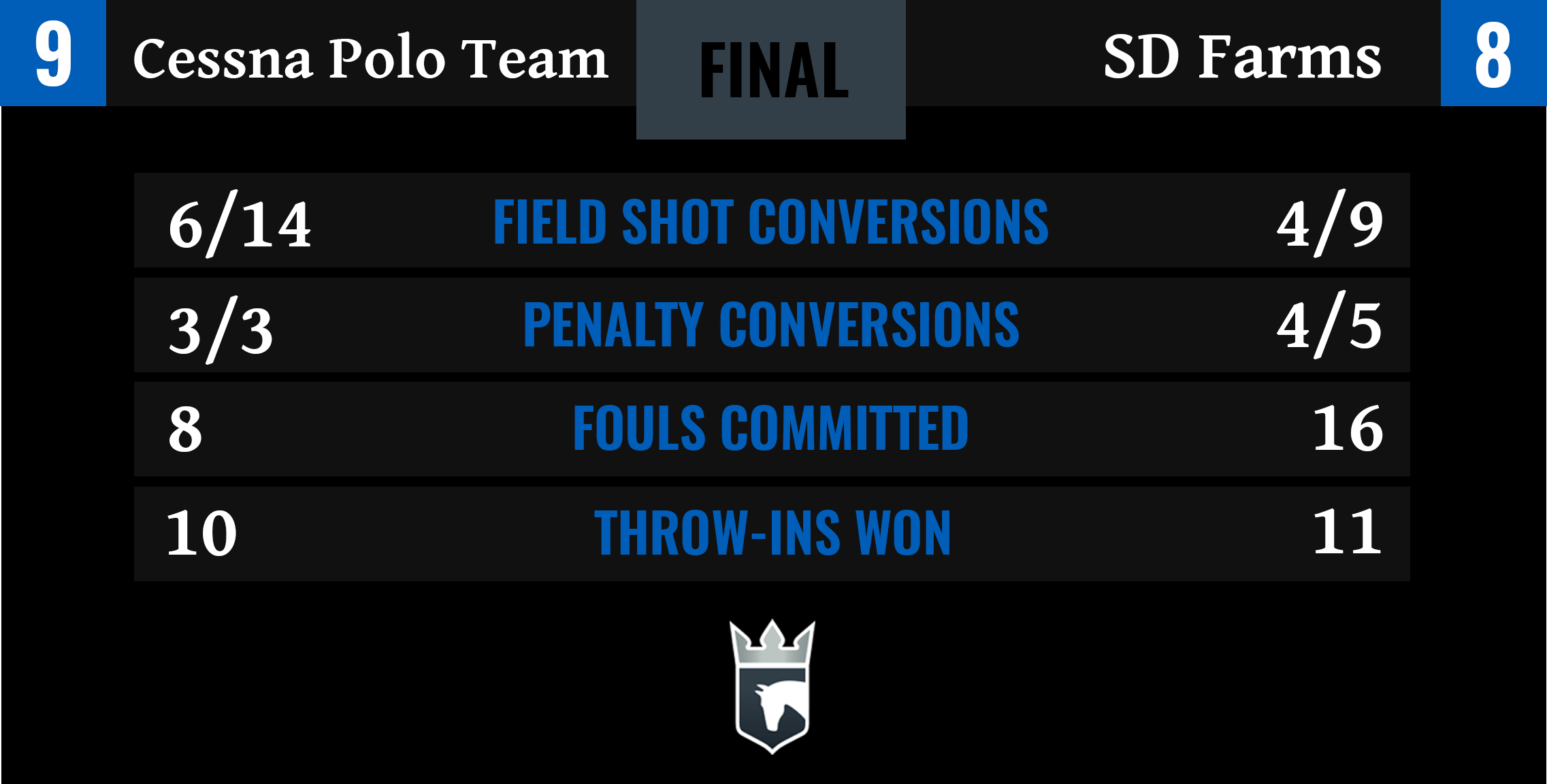 A tense opening game came down to the final minutes, with Cessna Polo Team overcoming a scrappy SD Farms team to score crucial goals from the penalty line. Cessna Polo Team was led by Felipe Marquez, who was a standout player in the game, finishing with four goals to lead all players in the game, while also producing a strong defensive showing. In the early stages, SD Farms dominated the throw-in line, but were unable to turn the extra possessions into scoring chances, committing too many fouls to keep their attack driving downfield. SD Farms was still able to grab a lead with Cessna Polo Team shooting just 3 for 10 from the field, with field goals coming off the mallet of Marquez and Ezequiel Martinez Ferrario. Scoring three of their five goals from the penalty line, SD Farms held a slim 5-4 lead at halftime.
Marquez continued to drive Cessna Polo Team's attack, scoring the lone goal of the fourth chukker to tie the game at 5-5 in a foul ridden affair. Despite committing 11 fouls through four chukkers, SD Farms conceded just one penalty attempt, with the rest of their fouls being spot hits, but that changed over the final two chukkers with Cessna Polo Team continuing to pressure SD Farms on the attack. Chip Campbell and Marquez added a goal each from the field, along with a Penalty 2 conversion from Felipe Viana in the fifth chukker to give Cessna Polo Team the one-goal lead. That lead was quickly erased at the beginning of the sixth chukker with Juan Ruiz Guinazu scoring his second goal of the game. With time expiring, the first bell sounded indicating 30 seconds left, but a late foul for SD Farms gave Viana a Penalty 3 attempt for the win and he converted the opportunity, sealing the exciting 9-8 victory.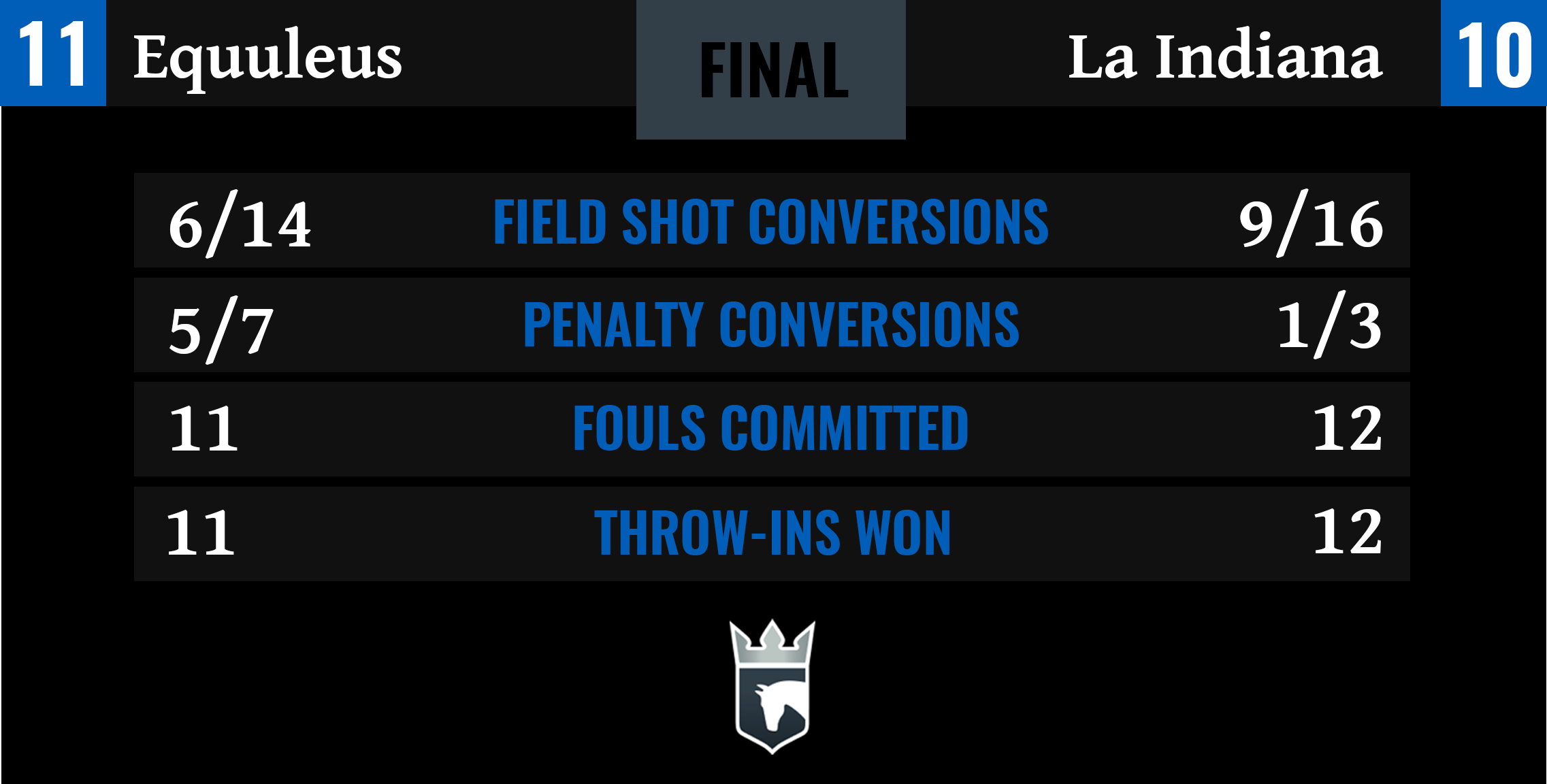 An overtime thriller was seen in the second game of the day with Equuleus narrowly edging La Indiana after a lengthy extra chukker. La Indiana held the edge in open play with a balanced team attack that saw three players all record at lest two assists, while Equuleus won the battle on the penalty line and were led by runs from Magoo Laprida from the field. Tomas Garcia del Rio led La Indiana early in the game with a goal and an assist, helping push his team into a one-goal lead. The opening two chukkers saw zero penalty attempts, with La Indiana utilizing Michael Bickford in the #1 position to stretch the field and create space for their passing attack. La Indiana extended their lead to two after Bickford's first goal of the game ended the half.
Maintaining a team-based offence, La Indiana continued to overwhelm Equuleus, with all four players contributing in a strong fourth chukker that pushed La Indiana's lead to three, with Equuleus struggling to slow the passing attack. Despite committing just two fouls over the final two chukkers, both were costly, with Mariano Gonzalez converting both attempts, while adding a safety conversion to erase the deficit. Magoo Laprida's fourth goal of the game put Equuleus in the lead as time was expiring. An incredible shot by Jeff Hall from 100 yards out saw the ball cross the goal line before time expired, sending the game into overtime. The teams traded fouls in the extra chukker, while La Indiana receiving a Penalty 4, but they were unable to convert as play continued. Minutes later, Equuleus received a penalty attempt of their own, this time a Penalty 3 and Mariano Gonzalez converted the chance to claim the exciting 11-10 victory.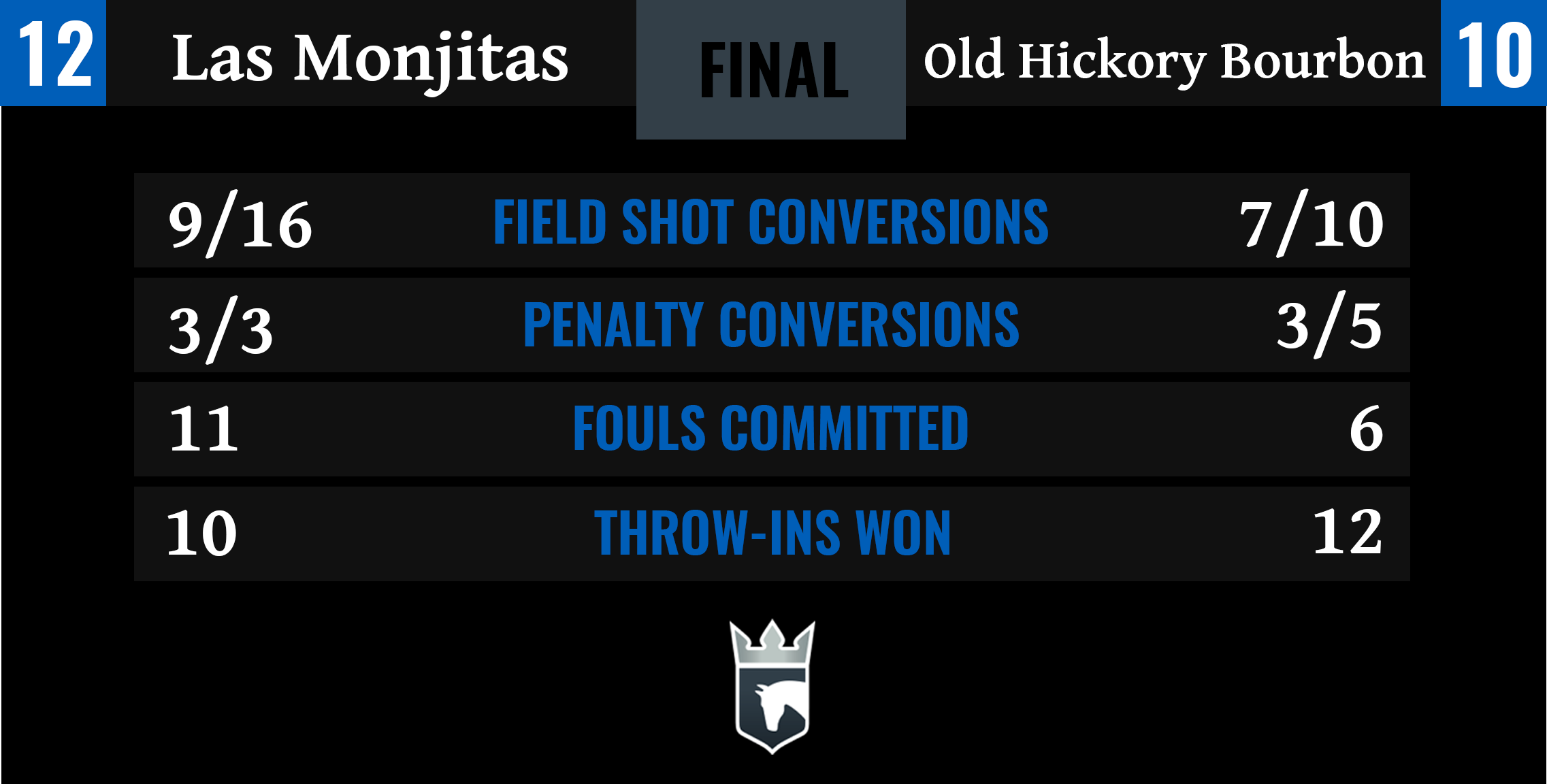 The final game of the day was a competitive match with multiple scoring runs for both sides, with Hilario Ulloa and Francisco Elizalde leading Las Monjitas to victory with a strong interplay, executing short controlled passes. Old Hickory Bourbon countered with longer passes into space, finding teammates at different times, resulting in at least two goals for each player on the team. Ulloa led Las Monjitas early in the game, scoring both goals in the opening chukker to open a 2-0 lead. Old Hickory Bourbon responded with three unanswered goals, including one from Sugar Erskine, substituting for the injured Jason Crowder. An impressive 5-1 third chukker in favor of Las Monjitas saw them race back into the lead, behind the efforts of Ulloa and Elizalde who scored two goals each along with a field goal from Camilo Bautista to finish the half holding a 7-4 lead.
The controlled attack of Las Monjitas continued to give them the advantage, with Old Hickory Bourbon remaining on defence. Holding a four-goal lead, Las Monjitas was seemingly in control, but Old Hickory Bourbon came storming back with a four-goal fifth chukker, led by two goals from Miguel Novillo Astrada to pull within one-goal. The comeback was short-lived after Elizalde converted two Penalty 2's to seal the victory and improve Las Monjitas' record to 2-0.