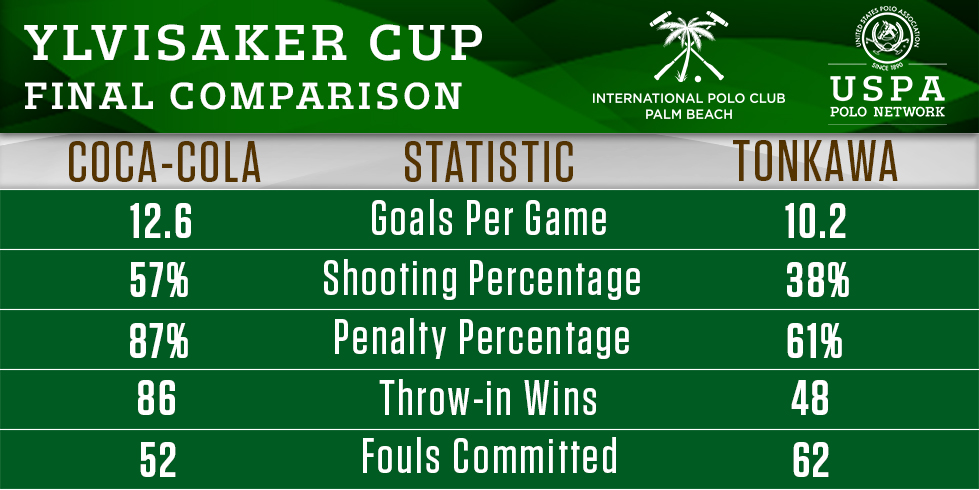 While polo is not simply a game of numbers, Sunday's Ylvisaker Cup final showdown between Coca-Cola and Tonkawa could turn on several quantifiable performance elements.
The game could be decided by Tonkawa's ability to convert their chances. In their semi-final game, Tonkawa shot 50% (5/10) from the field and 89% (8/9) from the penalty line, both significantly above their tournament averages, and pulled out a 1-goal victory. They may need similar percentages to beat Coca-Cola.
Tonkawa has the second-highest number of penalty attempts and has played tight, slow-paced games with high foul rates across the board. That has resulted in penalty attempts for Sapo Caset and set plays, such as penalty 5's, allowing Tonkawa to generate attacks.
Tonkawa generates more scoring opportunities in general than Coca-Cola, with more shots on goal from the field and more penalty attempts. Coca-Cola doesn't generate as many opportunities, but they are much more efficient.
Coca-Cola needs to avoid getting into foul trouble and allowing Tonkawa to hit penalty 5's. All the other key statistics seem to go in Coca-Cola's favor.
PENALTY GOALS: Coca-Cola's Julio Arellano has the best percentage from the penalty line at 87%. Tonkawa's Sapo Caset is in the bottom half of the tournament at 61%, but he has 10 more attempts than Arellano. Both players have converted 23 penalty shots.
FIELD GOALS: Coca-Cola is tied for the highest field goal shooting percentage in the tournament at 57% (43/76). Tonkawa is tied for the lowest, shooting 38% (31/81).
THROW-INS: Coca-Cola has a major advantage on throw-ins, averaging 17.2 throw-in wins per game compared to Tonkawa's 9.6.
FOULS: Tonkawa has committed 62 fouls to Coca-Cola's 52 fouls through 5 games.