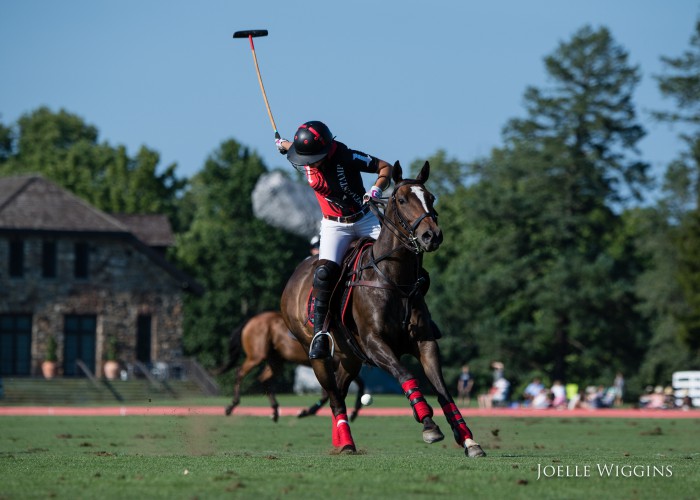 All photos courtesy of Greenwich Polo Club
The 2017 Herbie Pennell Cup marks Postage Stamp Farm's debut at IPC. Patrona Annabelle Gundlach, who has only been playing polo two years, tested the 20-goal waters at a tournament at Grand Champions Polo Club last fall.
The 2016 USPA East Coast Open was her first foray into playing in a major high-goal tournament. For her the ECO was all about competing at IPC in 2017. "Everything about me being in Greenwich was a stepping stone to Florida. The East Coast Open was a learning experience and the perfect entrance to the 20-goal for me," she said.
"We spent months deciding which tournaments to enter—Should we go to Santa Barbara and play the 16-goal? Should we go to Wyoming?" The decision was Greenwich because it would be the best prep school for Wellington. "The whole idea was that the type of grass in Greenwich is a little slower than the grass in Wellington, so it would be the best way to get me used to playing the 20," said Gundlach.
It was also the first 20-goal in which she and Brandon Phillips put a team together themselves. Whereas Grand Champions helps bring players onto teams, she said, she and Phillips were on their own this time. Deciding who else to recruit was a lengthy, detailed process. "We wanted to put together a team that made sense for this particular tournament," said Gundlach.
Nick Manifold, a 5-goal player, who not only acts as an advisor to Postage Stamp, but who also played for the team during the June/July Greenwich season, stepped aside for the ECO stressing the importance of creating a team that would be more competitive. "Nick suggested we bring Salva (Ulloa) on because we thought the tournament would play as an "open" rather than being handicapped," said Gundlach. Ulloa is rated at 7 goals, as is Joao Paulo Ganon, who rounded out the team.
For Postage Stamp, being competitive means a lot more than a game of numbers. Gundlach said the team was competitive not only because of the organization and the strengths of the players. "We were competitive because there were no egos on our team," she said. "It also didn't hurt that Salva's younger brother Hilario, going to 10 goals in January, was coaching us well!"
"When you have the right mix of people, the team can gel and really enjoy each other. It's a completely different dynamic than four guys just showing up. This sport is the classic example of why there is no 'i' in team. You can't play four different ways on the field and expect to win."