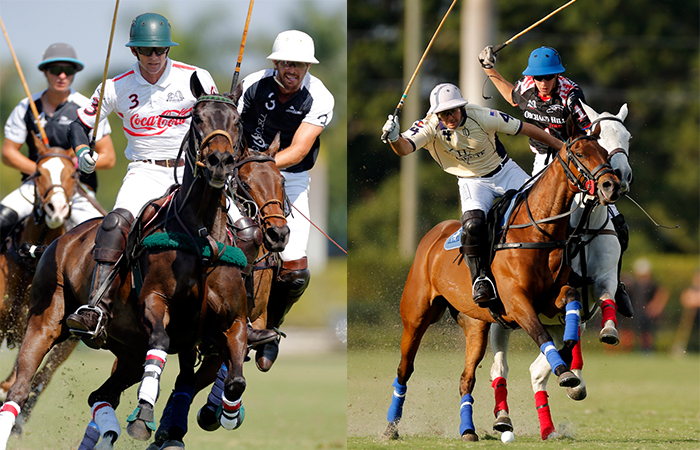 Valiente II's young firebrand Diego Cavanagh and Coca-Cola's veteran "Steady Eddy," Julio Arellano, are among the top six scorers of the 2017 Ylvisaker Cup going into the quarterfinals Sunday, Feb. 12. Cavanagh ranks right up there with sharpshooter Facundo Pieres—both have made 17 goals in the tournament for an average of 5.7 goals per game. Arellano is tied with Horseware's Juan Martín Obregon for third place, each with 19 total goals and an average of 6.3 goals per game. As the clock ticked down to the 3 p.m. featured match on Engel & Völkers field at IPC, Cavanagh and Arellano shared their off-the-field personas with interviewer Darlene Ricker.
What will you do before today's game?
Diego Cavanagh: I'll have mate with my grooms and see how the horses are. I like to listen to some music and be quiet. When I am in Argentina my mother always draw a cross on my head with her fingers and prays (but I'm not sure what she prays, haha!).
Julio Arellano: I always pray before my games—not to win but to play my best. My daughter will not allow me to leave the house without her "pep talk"! She has done it for years now. She is 13. It's pretty cute.
What did you do last night to relax?
DC: I had an asado with friends. We told stories and talked about fun stuff, not much about polo. Lots of laughing. Then I watched a bit of TV. I went to sleep sometime after midnight—I like staying up late, even the night before a game.
JA:  I spent a quiet evening with my family.
When you have a stretch of days off between games, what do you like to do?
DC: I like surfing a lot. But I am scared of sharks!!!! So I'd rather play golf. It is safer.
JA:  We like to take a mini vacation with the kids. This year we went swimming with the manatees. In January we went to an RV show in Tampa—we love to RV as a family every year and explore new places.
Tell me something fun that people don't know about you.
DC: I love cooking. I make really good asados. Any type of asadoI I really like doing beef asados, but I also like cooking fish.
JA:  I have a full head of hair but shave it anyway, hahaha!