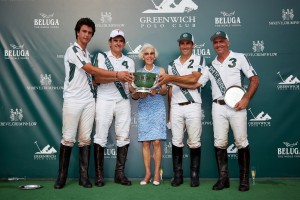 2016 Butler Handicap champions White Birch Polo Team receive trophy from Jorie Butler Kents: Santino Magrini (1), Hilario Ulloa (2), Mariano Aguerre (3) and Peter Brant (4).
Photo ©Chichi Ubina for Greenwich Polo Club
WELLINGTON, Fla.- Feb. 7, 2017- The International Polo Club Palm Beach (IPC) will host the USPA Butler Handicap March 26-April 2, 2017. The single-elimination tournament gives teams the opportunity to compete for a fourth 26-goal championship this spring.
This tournament adds to IPC's impressive high-goal roster, including its three other 26-goal tournaments: the C.V. Whitney Cup, the USPA Gold Cup® and the U.S. Open Polo Championship®.
The USPA Butler Handicap, inaugurated in 1954, honors Paul Butler, his family and their contributions to American polo. The tournament has become an important United States Polo Association (USPA) event for over six decades and has included world-renowned players, horses and polo club venues.
When the schedule is finalized, it will be posted on internationalpoloclub.com.
MEDIA CONTACT: 
Darlene Ricker
Media Relations
dricker@internationalpoloclub.com
310.210.4004