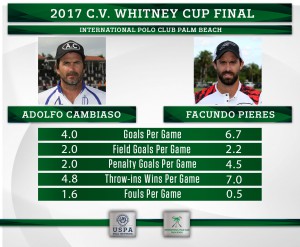 The legendary Cambiaso-Pieres rivalry will be as mesmerizing as ever this Sunday as Orchard Hill and Valiente tangle it up in the C.V. Whitney Cup final at the International Polo Club Palm Beach (IPC). The 3 p.m. featured match on Engel & Völkers field includes three 10-goalers—Adolfo Cambiaso, Facundo Pieres and Polito Pieres—who have gone head-to-head in more championship finals over the years than most people can count.
Orchard Hill, winning 5 of their 6 games this season, have scored the most goals per game since the start of the Ylvisaker Cup, averaging 11.8 goals per game. The offense from Orchard Hill is paced by Facundo and Polito Pieres, who are both in the top 10 in shots per game and both in the top 5 in throw-in wins per game. The addition of 5-goaler Felipe Vercellino playing the No. 1 position in the C.V. Whitney provided Orchard Hill with another option to finish plays, as Vercellino scored 3 goals in his opening game.
The other factor in Orchard Hill's performance is the penalty shooting of Facundo Pieres. He is the third most accurate of any player with at least 10 penalty attempts, shooting 77.1% (27 for 35), only trailing Juan Martin Obregon and Hilario Ulloa. Valiente has been using Diego Cavanagh on penalties, and he is the tenth most accurate at 66.7%, making him an exceptionally strong penalty shooter.
Facundo and Polito Pieres are both strong on throw-ins, giving Orchard Hill extra possessions, but they are countered by Cambiaso and Cavanagh, who are equally as good.
For Valiente to be successful, they will need to avoid fouling and putting Facundo Pieres on the line. Valiente should be up to the task, as thy have the lowest foul rate of any team since the start of the Ylvisaker Cup, averaging only 9.4 fouls per game.
Valiente scored 12 goals in their opening game of the C.V. Whitney, 3.5 goals higher than their average from the Ylvisaker. The new lineup with Diego Cavanagh and Matias Torres Zavaleta proved to be very effective in a big win over Coca-Cola, allowing Cambiaso to control play from the back and pass to Cavanagh and Zavaleta, who both shoot above average from the field.
If Valiente continues to foul at a low rate Sunday, keeping Facundo Pieres off the penalty line, the final may be decided by which team is able to control open play. Orchard Hill uses the Pieres cousins in a two-man game, combined with Vercellino to stretch the field. Cambiaso controls the back for Valiente and has two very good options in Cavanagh and Zavaleta to pass to at any time with patron Bob Jornayvaz blocking downfield.
Game report, stats and photographs provided by International Polo Club Palm Beach.
Media Contact:  Darlene Ricker, Media Relations, dricker@internationalpoloclub.com, 310.210.4004